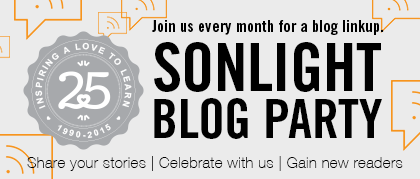 I am so excited to participate this month in Sonlight's Birthday link up! Despite sounding like a commercial, we actually started homeschooling with Sonlight… way back when…
My homeschool journey started oddly… When my kids were 2 and 3 we moved to a new town with no support network, no family, and no friends. And, 4 weeks after we moved DH went TDY with the Air Force – for 4 months. It was pretty rough so I started finding ways to get plugged in.
I went to the library story time, and I signed the kids up for Mom's Day Out (MDO). I joined MOPS.
Through the library we made friends – both moms and kids – who are still our close friends 11 years later. A couple of those friends invited us to a bible study – which was led by a homeschool mom. I really thought homeschooling was nuts, but I needed friends and the study was AMAZING. It was Christ-centered. She taught the bible unashamedly. The family who hosted had their older kids provide childcare for all of our littles (I later learned this was ministry training – and the kids asked to do it for us), and we could delve into God's word for a couple hours a week. It was a lifeline. One emphasis was encouraging us in our walk as mothers and to see the little ones as a blessing and ministry – not a burden. My heart was being turned home… weekly.
Well… at the same time Little hated MDO. HATED. I'll shorten the story, but after about 2 months of conviction (and not listening to the "oh, he'll be fine, let him cry it out… You need "me" time…" worldly advice givers) I pulled him out. Big was fine there, but feeling strongly that God wanted US to raise our kids, she came home too. It was only 6 hours a week, but pulling them out was huge. It marked for me a mental shift – we are responsible. Us. Not anyone else. God called US.
At the same time, (God's timing is amazing), we found our church home in a church with, amazingly, a lot of homeschoolers. These kids were great and their parents were actively participating in raising their kids. It was great to see and such an encouragement.
So… when Big hit about 4-5, DH and I discussed a trial year. We'll see if we can start a routine… learn something… and enjoy it.
Being the nervous type I researched. I read books (The Well Trained Mind, A Charlotte Mason Companion, and Educating the Whole Hearted Child. And visited websites like The Well Trained Mind and the Sonlight forums. I asked questions. I attended a used book sale.
Then, when the kid's friends were headed off to K4, we jumped in.
AND…
It was awesome!!
Yes, we had some rough days, but overall Big learned to read fairly painlessly (poor kid, getting to be the Guinea pig…) and we loved making learning a lifestyle.
We had peace in our home.
The kids were learning at their own paces.
We could sleep in when we needed to, and we could study the bible!
We had TIME for the fun stuff.
Our first curriculums were Veritas Press Phonics Museum and Sonlight Core K.
We soon discovered… WE LOVED it.
We read and read and read.
We painted stuff and made stuff.
We baked and went to the park.
We attended library time and had park days with friends.
We went to the nature center and collected leaves.
We could do some fun extras like AWANA, and not sweat getting up early the next day.
We could travel to see family when we were needed – or when we felt like it!
And after a year, when Big was supposed to enter K, we assessed where we were.
She read well. She was ready for Grade 1 math. Both kids (and I ) were relaxed and happy. We had a great rhythm. We could travel when we wanted.
And we came to the realization: We were homeschoolers.